Instrumentation and Number of Musicians
2 alto saxes, 2 tenor saxes, baritone sax
4 trombones

4 trumpets

Piano, electric bass, 1-2 drum set musicians

2 musicians (female and male) who double on vocals
17 total musicians

Typical Melody Masters Big Band Performances
Include sets ranging up to approximately 45 minutes; with two sets, add a 15-20 minute break.

Include repertoire selected to meet audience needs and our hosts' expectations.
May be scheduled for weekends (mid-day and evenings); weekday evenings usually after 6:00/6:30 PM.

May be scheduled during the daytime, if possible.

Typical Performance Spaces and Venue Requirements
The band's footprint is 20' x 17' with performance area dimensions of 25' wide x 20' deep. Add 10 additional feet between the conductor and audience.

18 adult size, sturdy chairs with no arms.
Electricity with working outlets that would support a standard sound system including a mixer, electronic piano and piano and bass amps, and mics.
Overhead lighting over the band performance area sufficient for reading music.
Musician's room (Green room – the size of a small elementary school classroom) for musicians' coats, instrument cases, other gear. It would also serve as the bands' break room.
Restrooms convenient to the performance space.
Convenient parking for musicians with large equipment, especially.
Easy roll in and load in of large equipment: sound system, electronic piano and amp, bass and amp, drum set, auxiliary percussion.
A place to hang or display the band's 2' x 3' foot banner.

How to Engage the Band
Please read our website thoroughly.

Complete and submit the contact form on our website.
Schedule a 30 – 45 minute on-site visit with our music director.
Meet to discuss logistics, venue requirements, and production and marketing aspects.
Follow-up with the music director within 1-2 weeks. Should you desire to engage the band, kindly allow sufficient lead time. This is usually 4 – 6 months prior to your desired date.
Agree to meet the expectations for hosting the band.

2019 Performances
Jazz Radio 90.1 FM, WGMC, Greece, NY
Live On-Air Series: Wednesday, January 23, 2019, 7 – 8 PM
Recorded live at Jazz 90.1 studios
https://www.mixcloud.com/jazz901/the-melody-masters-big-band-live-on-jazz901-january-23-2019/
Fairport Baptist Home
Fairport, NY
February 18, 2019, one set
The Brickstone at St. Johns
Rochester, NY
March 11, 2019, one set
Honor Flight Welcome Home event for area veterans
ROC International Airport, Rochester, NY
April 7, 2019, 3 sets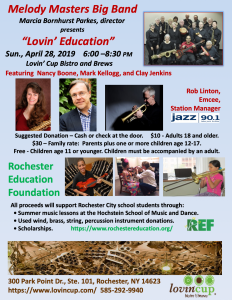 Lovin' Education Benefit Concert
Lovin' Cup Bistro and Brews, Rochester, NY
April 28, 2019, 6:00 – 8:30 PM, two sets
This benefit was a collaboration initiated by the Melody Masters Big Band. Partners included the Rochester Education Foundation (REF) and Lovin' Cup Bistro and Brews. Jazz soloists included Nancy Boone-Bahr, baritone saxophone, and Mark Kellogg, trombone and Clay Jenkins, trumpet, faculty at The Hochstein School and the Eastman School of Music, respectively. All funds raised were directed to support summer music lessons for needy students in the Rochester (NY) City School District (RCSD). Used instruments which were collected were repaired and donated to RCSD students.
Fairport Baptist Home Fairport, NY
May 9, 2019, one set
Seabury Woods, Episcopal Senior Life, Gates, NY
Seabury Community Block Party
September 14, 2019, 11:55 AM – 1:45 PM, two sets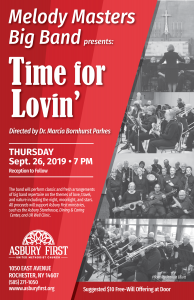 Asbury First United Methodist Church, Rochester, NY
"Time for Lovin'" Benefit Concert
https://www.asburyfirst.org/about/news/248-melody-masters-big-band-presents-time-for-lovin-concert
The benefit concert supported church ministries in the areas of food, clothing, and wellness.
September 26, 2019, 7:00 – 8:30 PM, two sets
2018 Performances
Perinton Recreation and Parks, Perinton, NY
55+ Dinner Dance Series
October 24, 2018 5:00 – 7:15 PM, two sets
http://www.perinton.org/Departments/Recreation/srcit
Seabury Woods, Episcopal Senior Life, Gates, NY
Seabury Community Block Party
September 8, 2018, 12 noon – 2:15 PM, two sets
Asbury First United Methodist Church, Rochester, NY
Love n' Blues Concert: June 19, 2018, 7:00 – 8:30 PM, two sets
http://www.asburyfirst.org/events/eventdetail/23117/8/love-n-blues-jazz-concert
Churchville Chili Central School District, Churchville, NY
District Jazz Festival
Featuring the Melody Masters Big Band and a combined performance with the Churchville-Chili High School Swingin' Saints Jazz Ensemble.
April 13, 2018, 7 PM
Fairport Baptist Home
Fairport, NY
February 12, 2018, one set
The Brickstone at St. Johns
Rochester, NY
February 11, 2018, one set